Check out our county-by-county economic snapshot infographics
Learn about DevelopMN, a statewide economic development strategy
---
As part of its contract with the Economic Development Administration (EDA), West Central Initiative compiles a Comprehensive Economic Strategy (CEDS) plan for the Region IV Economic Development District of Minnesota. WCI works with the professional and volunteer community economic development staff in the region to develop this resource. It includes an overview of the area, its economy and local development initiatives, and an economic development breakdown, action plans and evaluation measures for each of the nine counties in our region: Becker, Clay, Douglas, Grant, Otter Tail, Pope, Stevens, Traverse and Wilkin.
The CEDS is rewritten every five years and updated annually.
---
West Central Minnesota CEDS
---
CEDS Appendix
An analysis of EDR4 strengths, weaknesses, opportunities and threats.

Statewide economic development document.

A list of WCI and EDR4 partners.
---
CEDS 2016 County-by-County Economic Snapshot Infographics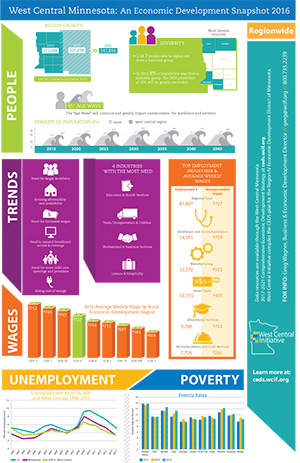 ---
DevelopMN Statewide Strategy